What to Expect
Tandem skydiving is a great way to make your first jump. It requires no experience and only a 30-minute briefing before you take to the sky.
In the hands of a highly experienced tandem skydiving instructor, you can enjoy the adrenaline rush of freefall in the safest possible way.
If you are thinking about making your first skydive or have already booked your skydive with Chattanooga Skydiving Company, you are probably wondering what the experience will be like. Here, we cover the basics of what you can expect on the day of your jump.
Arriving at Chattanooga Skydiving Company
When you book your skydive, you'll be offered a number of timeslots. Be aware that the timeslot you're given is your check-in time. There will be some paperwork to do upon arrival, however you can expect to jump within 3 hours of your time slot (if you're on time).
The dropzone is a great place to be, so enjoy the waiting time. Watch people land and enjoy the atmosphere.
Getting Your Tandem Skydive Brief
Before you make a tandem skydive, you will need some basic training on the ground. This is a short class that covers what to expect from your skydive, how to exit the plane and how to position your body during freefall.
This won't take longer than half an hour and will have you fully prepared for your skydiving adventure.
Making Your Tandem Skydive
Before your jump, your instructor will 'gear you up', and ensure your harness fits properly. Then you'll walk to the plane and board together.
The plane ride to altitude is the longest part of the skydive, and is very much a part of it. Make sure you enjoy the views as you anticipate the excitement of jumping out of the plane.
At 14,000 ft. or 18,000 ft. (depending which altitude you chose), the aircraft will slow down and someone will open the door. When it is your turn to exit, the instructor will move to the door and you will get into position as you learned during your brief.
You will then exit the plane and freefall for upwards of 60 seconds, until your instructor deploys the parachute around 6,000 ft. and flies you safely to the ground (high up, you may even get a go at steering), taking 3-5 minutes.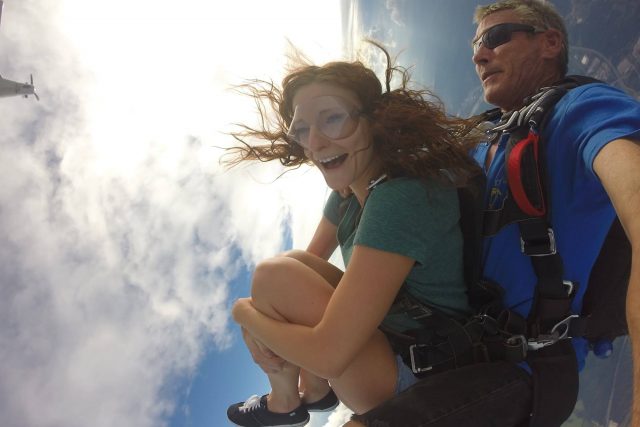 Landing and After
You will land on a strip of grass next to where you took off, in sight of any family or friends that you brought. Your instructor will walk you back in, congratulate you and get you out of your harness.
You can now return to your friends and family and tell them how amazing your experience was (and/or swing by reception to book your next skydive).
Book A Tandem Skydive with Chattanooga Skydiving Company
If you haven't already booked a tandem skydive, you can do so online or give us a call. Our highly experienced skydiving instructors can't wait to take you on the adventure of a lifetime!