Looking For The Perfect Way To Propose?
Marriage Proposals & Weddings
If you desire to create a memory that your partner will never forget, then allow Chattanooga Skydiving Company to help you plan! Through the years, our team has coordinated many marriage proposals and even weddings! We are known for making smiles, but we also make lifelong memories around life's biggest moments.
Marriage Proposals
If you're interested in a marriage proposal, then your first step is to give us a call to schedule your skydives and tell us about what you have in mind. Most often, marriage proposals are conducted in this way:
Coordination – let us know in advance of your intentions so we can have one of our team members work out the details with you. Contact us online or give us a call at (855) 776-5867.
Proposal Banner – It's not uncommon for those proposing to bring a banner with the words, "Will You Marry Me?" written on it. Keep in mind the banner needs to be BIG in order for your partner to see it from the air. You can drop the banner off before the day of your jump or we can coordinate a discrete handoff on the day of your skydive.
The Jump – Once you and your partner take off, our team will position the banner in the landing area where you and your partner will land. We will also coordinate with your instructors to ensure that the person doing the asking lands first! We'll make sure you have plenty of time to gather yourself and be prepared as your partner begins to fly in. They'll spot your banner, shriek, and then land near you where you'll be on bended knee!!! (it's always amazing!!)
The Ring – Of course, you can take the ring with you on your skydive, but it's not recommended as it's not something you want to risk losing. One of our personnel can be your "ring bearer" until you land at which point they'll pass it off to you to ensure you're ready for the big moment!
Photography – Be sure to purchase a media package so we can document the entire event for you! Your instructor and your partner's instructor will be wearing cameras in order to capture the entire amazing event! Pro Tip: Bring chapstick as you're about to get kissed! 🙂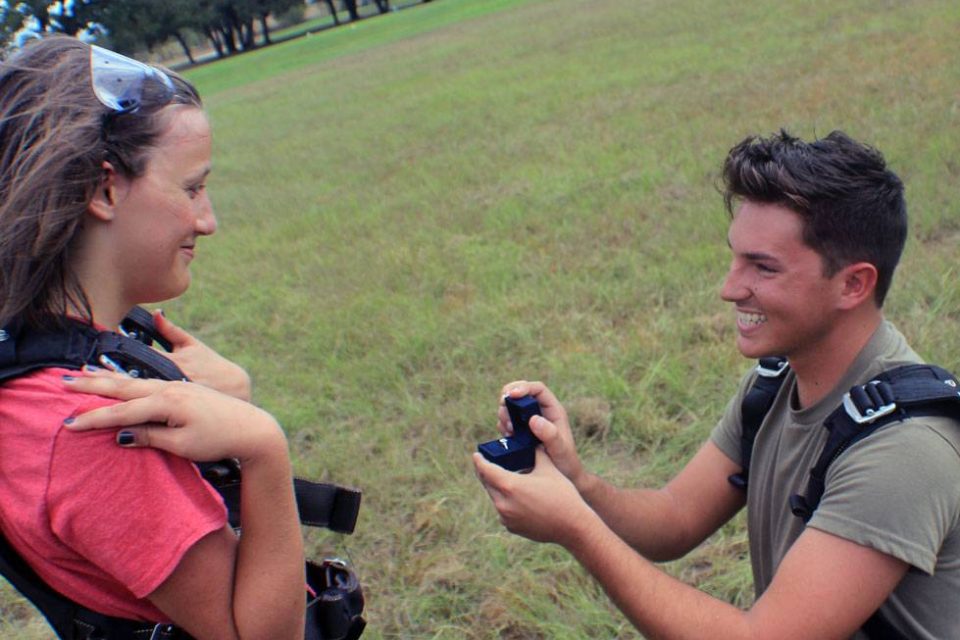 Skydiving Weddings
Not only do we host marriage proposals, but we even conduct weddings! At Chattanooga Skydiving Company, you can rent our plane for a flight with you, your fiancé, and your wedding party. You'll be married on the flight up and then skydive down! Talk about taking the plunge!
We can also coordinate getting married on our property if getting married on earth is preferred! Some couples have opted to get married on the ground and then have a skydiving reception where everyone goes skydiving together!
If there is anything we can do to help you create an extraordinary moment with your nuptials, allow us to help. Since our inception, we have worked with countless couples to help create their special day! Of all the events we host, proposals and weddings are our favorite and our specialty!
Ready To Start Planning?