A company logo is a lot like the Swiss army knife of a business. As the 'face' of the company, the logo often gives the first introduction, serves as a catchy emblem to grab the potential customer's attention, and is the symbol that will help promote public recognition of the business. Having something people can see and easily associate to your business makes it a bit easier to market. The creativity and innovation it takes to create an outstanding logo can be both innately inspired and the result of various influences coalescing perfectly. When a drop zone owner is open and willing to draw inspiration from what may initially seem like disparate sources and when things line up just right, something appealing can be produced. This is definitely the case with the unique logo of Chattanooga Skydiving Company.
Background:
For the founders of the Chattanooga Skydiving Company, Justin Silvia and Joe Silvia, skydiving is a family affair that can be traced back three generations to drop zone owner Justin Silvia's father, who began jumping in the sixties. Justin, himself, has been jumping for 30+ years and made his first jump on June 17, 1984 in Pepperell, Massachusetts. After traveling around the country and accumulating around 10,000+ skydives, he settled in Chattanooga, Tennessee and knew this was where he wanted to open a drop zone. While Justin Silvia does not have a 'professional' background in design, he definitely has a natural knack for marketing and the ability to make use a sounding board of friends and a head full of ideas to create something truly unique.
The Night It All Came Together:
In 2011, Justin Silvia made his way to South Padre Island, Texas, to celebrate and enjoy Thanksgiving with the occasional libation, in the company of his son's Joe and Paul, and, thanks to the internet, conversation with other friends via Skype. Shortly before this gathering, Silvia and his oldest son, Joe, had begun planning to open drop zone in Chattanooga, TN. The preliminary stages of planning and funding had been figured out, but there were still aspects of the venture that needed to be discussed and established. For starters, the drop zone was in need of a logo.
When it came to setting up the 'face' of the company, Justin had an idea in his head that he couldn't quite let go of. In his mind when he thought about a logo, he kept returning to the iconic image of Bob's Big Boy-a grinning chubby child with a swirl of brunette hair. This mascot was easily recognizable and stylistically appealing, but it didn't have much to do with skydiving. As the night went on, the friends continued to discuss logo possibilities-tossing out ideas, and tossing back drinks. Finally, someone noticed the shirt that Justin's son was wearing. In the center of the shirt was the logo for "Average Joe's Gymnasium"- some of you may recognize this as the small gym Vince Vaughn fought to save in the off-the-wall (pun intended) sports comedy film Dodgeball. The logo of "Average Joe's" bears a striking stylistic similarity to Bob's Big Boy.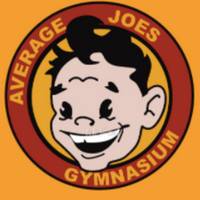 After taking a long look at this shirt, Justin recalled a photo of his youngest son, Paul. The photo is taken shortly after Paul has landed from a skydive. He has on a pair of purple mirrored goggles reflecting the sky, and he sported that pleased, flushed look complimented by a head of wind-rustled hair that so many skydiver's wear right after a jump.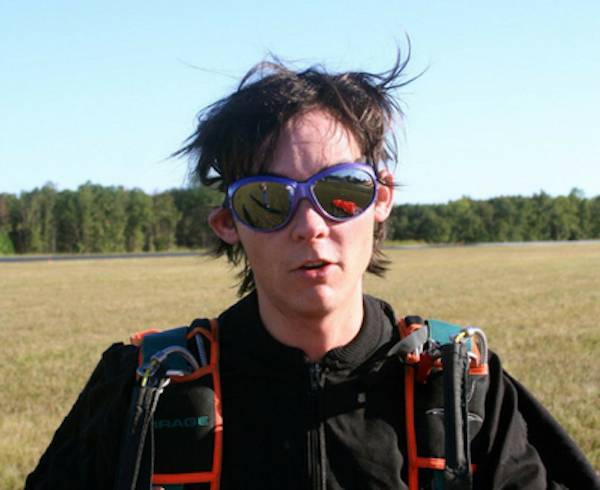 It was then the images synthesized in Justin's mind-they should combine the photograph with that iconic 50's logo style. Once the ideas were clear, Justin messaged his friend Steve Phelps from Skydive Airtight in Tulsa, Oklahoma and the current Chattanooga Skydiving Company logo came to be.