Skydiving Atlanta? Consider Chattanooga Skydiving Company!
If you live in Atlanta and are thinking of skydiving, we invite you to think about skydiving with us. More than 65% of our customers make the drive from Atlanta because of our reputation in the industry, attention to safety, unparalleled view and the cool things Chattanooga has to offer. If you're thinking of skydiving Atlanta, we invite you to consider Chattanooga Skydiving Company because what we offer is unique from all others in the region!
The views are incredible! The staff is hilarious and so much fun. I couldn't have imagined a better first jump! Will definitely be back again soon! Thanks for an awesome experience. – Nicolette A.
Discover Chattanooga
If you've not yet discovered Chattanooga, you need to! Outside Magazine ranked Chattanooga as the 'Best Town Ever' in 2015! If that weren't enough, The New York Times listed Chattanooga as one of the "Top 45 Places to Go" in the world (#25!)! Of the four US destinations that made the list, Chattanooga was the only place listed outside the state of California!
The best news is we're a short drive from Atlanta and considered to be the adventure capital of the southeast offering a myriad of outdoor adventures, incredible restaurants, a vibrant arts and cultural scene and world class attractions. The great majority of our skydiving guests come from Atlanta for either the day or the weekend to experience what no other regional skydiving center can offer… incredible views from altitude!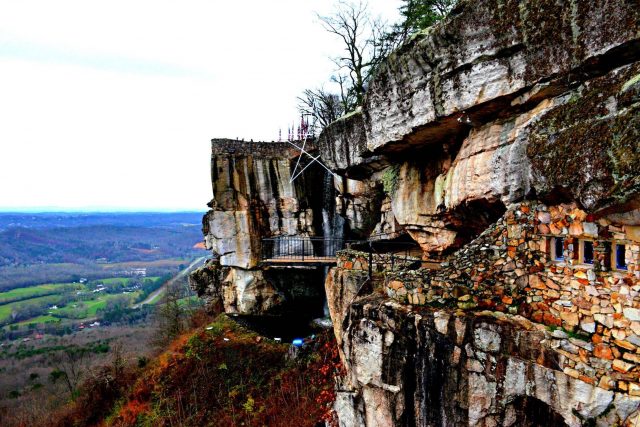 Why Choose Us
Our Views
The view is by far our biggest advantage and selling point. Chattanooga is known as the Scenic City and what you'll see from jump altitude is breathtaking. While free falling at 120mph you'll see the mountains of southeast Tennessee, the Tennessee River, the Tennessee River Gorge, and the Sequatchie valley. Jumping from the clear air of Chattanooga provides cooler temps during the summer, better visibility and most of all, the million dollar view of two of the worlds most unique geographical features!
Our Experience
Chattanooga Skydiving Company has become a favorite skydiving destination for both first time skydivers and experienced skydivers alike because of the reputation we've garnered over 40 years in the sport. The Silvia family have been in aviation and skydiving for more than four decades and have implemented their experience to create a world class skydiving center offering the best aircraft, equipment, instructional staff and the most scenic views around.
Our Aircraft
Our beautiful 15 passenger PAC 750 lifts jumpers up to altitude in fifteen minutes to showcase Chattanooga in ways no one else can. Our aircraft is the newest in the south and is a luxury to jump from! Our aircraft is purpose built for skydiving – a 2008 Pacific Aerospace PAC 750. Using the best equipment money can buy, highly experienced pilots and skydiving instructors, and a no-nonsense approach to safety, Chattanooga Skydiving Company is Atlanta's skydiving destination.
Our Altitudes!
We offer multiple jump altitudes for our guests, but there is no bigger thrill than jumping from 18,000 feet… more than three miles up! Our 18,000 foot jump package is the highest in the south. Requiring oxygen, on the ride up, our guests receive the best possible civilian skydiving experience in the region.
Our Value
Our pricing is the most competitive in the industry and we offer an added plus… a complimentary video of your skydive. This added "plus one" is not offered anywhere else in the skydiving industry. It's our philosophy that everyone should have a video of their skydive because it is literally one of the biggest events in your life. As owner, Justin Silvia likes to say, "If it's not on video, it didn't really happen."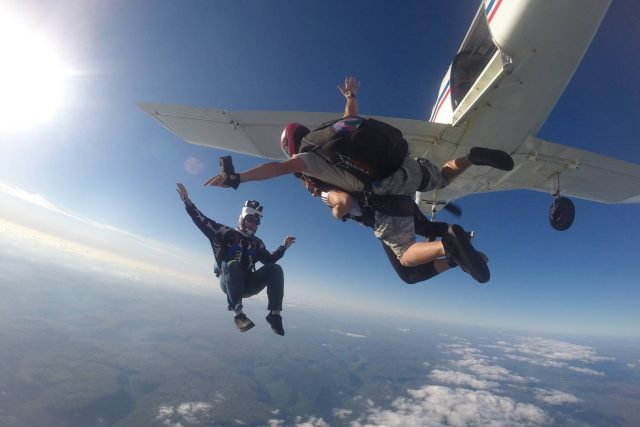 Make Your First Skydive, The Best Experience Possible
If you're considering skydiving Atlanta, we hope you'll consider us in your skydiving adventure plans and skydive Chattanooga with us! We are passionate about the sport, our customers and our city!
Hope to see you soon!